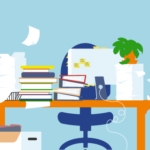 A Message from the Minister's Messy Desk 
When I served as Interim Moderator at Victoria's Chinese Presbyterian Church one of their traditions was holding a New Year's Eve service also called a Covenant Renewal service. It comes from the Wesleyan (Methodist) tradition and was a simple prayer service, highlighting hope for the new year and a re-commitment to live a Christ lead life. As this year begins I know we are all facing uncertainties and concerns but I have a lot of hope!  Prolific hymn writer Charles Wesley wrote a New Year hymn and the words are quite helpful as I think about the hopes I have for this new year and the desire to continue this faithful journey no matter what lays ahead of us. 
Come, let us anew
our journey pursue,
roll round with the year,
and never stand still till the Master appear.
His adorable will
let us gladly fulfill,
and our talents improve,
by the patience of hope and labour of love.
Our life is a dream,
our time as a stream
glides swiftly away,
and the fugitive moment refuses to stay.
O that each in the day
of his coming may say:
"I have fought my way through,
I have finished the work that you gave me to do!"
O that each from our Lord
may receive the glad word:
"Well and faithfully done;
enter into my joy, and sit down on my throne!" 
Unfortunately the power went out midway through the service at St. George's United on Jan 2! Those of us watching the live-stream know that it just simply stopped. Those of us hoping to watch the whole service on YouTube have discovered that it cuts out mid-sermon. I know that the tech team tried really hard to get the live stream back on line but the power went out three times during the sermon thus causing issues for their wifi connection. Unfortunately most of us missed Ross' sermon! As a result Ross and I are working on another time in the future when he can come in person and preach for us. 
Announcements:
At this stage we are continuing to offer in-person and online services. The session will be re-evaluating our procedures and what we should do moving forward at our upcoming session meeting. 
Reminder to elders we have a session meeting on Tuesday Jan 11 at 7pm over zoom.