Thank you for inquiring about renting our facility.
Our building is approximately 5700 sq ft
We  have different rooms available for rent, our mandate is to assist our local community programs with access to affordable spaces.
The rooms we rent out are:
Sanctuary (aka Millenium Hall) – approximately 3605 sq ft. As per fire regulations were are approved for 223 people with tables and chairs OR 282 people with just chairs.
The Classroom` is suitable for groups around 15 – 20 people.
We also have a small library, with a round table setting, suitable for groups of 2-10
The Kitchen is commercially licensed for use.
There is no storage available for rent. 
Yes we have chairs and tables: 8ft rectangles, 4ft squares and 6ft round tables
Projector, screen and sound system are available – require a tutorial for usage
RATES for 2023 *NOTE rates are subject to change without notice*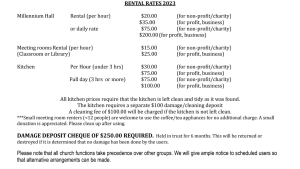 PLEASE CONTACT OUR ADMINISTRATOR FOR A RENTAL PACKAGE AND AGREEMENT
*Your rental is not guaranteed until a $250 damage deposit accompanies the completed rental agreement.
Please contact us at: comoxpc@gmail.com