We are pleased to be offering in person worship on the LAST Sunday of the month. REGISTRATION is required
All in-church services and rental group meetings are postponed until further notice.  For more information or if you have pastoral concerns please contact Reverend Jenn revjenng@gmail.com or at 250-218-5465
Our Sunday Service is at 10:30 am, and includes a choir and accompanist, Elvera Penner.  The heart of our worship is the reading and preaching of God's Word, seeking its relevance for our lives today.  Communion is celebrated quarterly and special Services are provided according to the season and the need.  In all our Services, we extend a warm welcome and an open invitation to join us to neighbours, vacationers, seekers, and visitors.
Office Hours: Wednesday 9 am – noon, Thursday and Friday 9-11am
*Due to the ongoing pandemic we have reduced our hours of operation to Thursday and Friday mornings. Our office is open while we continue to follow all necessary preventative measures; wearing masks indoors, physical distancing and hand hygiene. Scheduled appointments are preferred.
Our Minister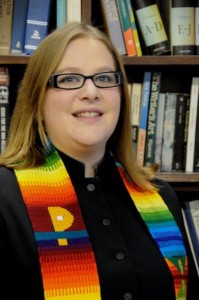 The Rev. Jennifer Geddes began her ministry journey while growing up in Hamilton, Ontario. She studied in Waterloo, Ontario at Sir Wilfrid Laurier University and received a degree in Archaeology and Religion in Culture. Her undergraduate thesis was entitled "Buddha Between the Lines: The Beat writers and their influence on Buddhism in North America". She returned to Hamilton where she was involved in youth ministry and inner city outreach at MacNab Street Presbyterian Church. It was at the neighbourhood pub that she met her companion along this road, her now husband, Mike. Upon graduating from Knox College at the University of Toronto with her Master of Divinity she accepted the call to St. Andrew's in Victoria, BC as their assistant minister. She was also the Presbyterian Chaplain at the University of Victoria where she learned wonderful lessons in interfaith dialogue, inclusivity and meditation. It was while serving at St. Andrew's that she fell in love with Vancouver Island. In 2013 she felt the Spirit calling her up island to this valley paradise. Both she and Mike are excited about exploring the region via kayak, trails and roadtrips in their campervan. Jenn has a passion for what she calls "Beyond the Church Walls" ministry in which she recognizes the great need to be involved in and with the community and share the love of Christ with everyone. She is also an avid tea drinker and collector, enjoys attending live music events, and admiring local art. She feels blessed to be in such a beautiful country where some of the Creator's best work is protected and enjoyed.
Please feel free to contact Rev. Jenn at revjenng@gmail.com or by contacting the church office.
For the Lord giveth wisdom: out of his mouth cometh knowledge and understanding.
(Proverbs 2:6)