Announcements from Comox Valley Presbyterian Church 
Thank you to Rebecca Lupkoski who decorated our front door for Easter. You can see much of Rebecca's work around town in various shop windows.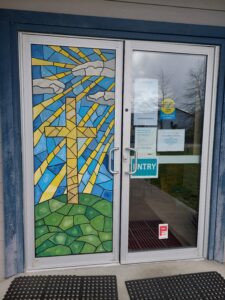 Session is meeting April 12 at 7pm over zoom.
Lenten Project:
April 17 is our last Sunday to collect funds for our 2022 Lenten Project, Sowing Seeds for a Secure future in Guatemala. Thank you to John Popiel who spoke to us about the work being done by PWS&D and their partners in the region. If you missed it, be sure to watch it on our YourTube Channel.
HOLY WEEK Services and Events
Join the United and Presbyterian Churches in the Comox Valley as we spend time in lament and love.
April 14: Maundy Thursday  Service at 7pm 
At Comox Valley Presbyterian Church
April 15:  Good Friday Service at 10:00am
At Comox United Church





April 16:  Holy Saturday Neighbourhood Crosswalk at 1:00pm

A walk around the neighbourhood of Comox Valley Presbyterian Church

This is a new event for us. It is a re-imagined version of the stations of the cross and will involve an approximately 30mins walk around the neighbourhood with stops, reflections and prayers along the way. 

Meet at the bench in front of the Church on Aspen Rd.
April 17:  Easter Sunday

Sunrise Serve at 6am at Goose Spit by Comox United 

Sunrise Service 6:45 Provided by Weird Church Cumberland

Meet at Marine Drive Picnic area, 39 Marine Drive in Royston
A Special Easter Service at 10:30am
Comox Valley Presbyterian Church