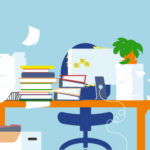 A Message from the Minister's Messy Desk
          All this sunshine and warm weather does me a lot of good! It's no secret that one of my favourite hymns is In the bulb there is a flower and it always comes to mind at this time of year. In the first verse it says, "In the cold and snow of winter/ there's a spring that waits to be/ unrevealed until its season/ something God alone can see."
I feel like a small glimpse of that mystery is being revealed at this time of year. I pray that we all feel a sense of renewal despite the fact that we are still living in the shadow of a pandemic. I know many of you have appointments for your vaccine and I hope to be on the list soon! I hope that this is another sign that the tides are changing. We will, however, continue to follow all health orders which means that for the time being there are no in-person gatherings at the church. However, I am available for outdoor one on one pastoral visits either in backyards or at the church. The second verse of the hymn has the line, "There's a dawn in every darkness bringing hope to you and me." May we see dawn on our horizon as spring has sprung!
ANNOUNCEMENT FROM SESSION:
On March 18th the Moderator of the General Assembly, The Rev. Amanda Currie sent out a pastoral letter to all Presbyterian Churches in Canada. The session received this letter at our most recent meeting and wants to make sure that everyone has an opportunity to read it. This letter was written in light of the church's promise to rebuild broken relationships and to respond pastorally to LGBTQI people who have been harmed in the church. This is a continuation of a letter of repentance written in 2017 by the then moderator the Rev. Peter Bush. To read the letter in its entirety please go to:
https://presbyterian.ca/2021/03/18/keeping-our-promises/
NEW BEGINNINGS BUILDING PROJECT:
There is a congregational meeting on April 22nd at 7pm over zoom. This is to address the report from the New Beginnings Building Committee with regards to building affordable housing on our property. This report was sent out on April 8th. Please read and review the report. If you did not receive the report please email or call the office for a copy.
Comox Valley Presbyterian Church is inviting you to a scheduled Zoom meeting.
Topic: Congregational Meeting RE NBBC
Time: Apr 22, 2021 07:00 PM Vancouver
MESSAGE FROM THE FELLOWSHIP GROUP REGARDING THRIFTY SMILE CARDS:
Thank you to everyone in the congregation who has been participating in the Thrifty Smile Card Program. When we apply to participate in this program we need to identify a goal for the funds. We have used the funds over the years to maintain a well-equipped kitchen that meets all safety codes.
Thrifty Foods is changing the way they operate the program beginning June 15, 2021. After that date your current Smile Card will no longer be able to be used to raise funds for the church. We would encourage you to continue to use it until then to maximize the funds we will be able to raise under the current program.
The new program will no longer allow participants to load up their own card, but instead we would need to purchase cards with pre-loaded amounts and then resell them to the congregation. This is not something that we feel that we will be able to manage, so it is with regret that the Fellowship Group will no longer be participating in the Smile Card program as of June 15. Please continue to use your current card until then and thank you again for your support.
LENTEN PROJECT UPDATE:
THANK YOU!!! We collected $2740 for our Lenten Project. This year we raised funds for the Mt. Washington Ski Patrol, in honour of Al Wedel, and the Comox Valley Head Injury Society, in honour of Gord Johnson. Thank you for your generosity!