IMPORTANT REMINDER:
 CONGREGATIONAL MEETING TONIGHT
There is a congregational meeting TONIGHT (April 22) at 7pm over Zoom to address the report from the New Beginnings Building Committee with regards to building affordable housing on our property. The report was sent out on April 8th. Please read and review the report AND attend tonight's meeting.
Topic: Congregational Meeting RE NBBC
Time: 
Apr 22, 2021 07:00 PM 
_________________________________________________________________________________________________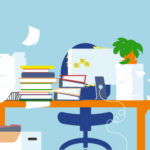 A Message from the Messy Minister`s Desk
MESSAGE FROM THE FELLOWSHIP GROUP REGARDING THRIFTY SMILE CARDS:
Thank you to everyone in the congregation who has been participating in the Thrifty Smile Card Program. When we apply to participate in this program we need to identify a goal for the funds. We have used the funds over the years to maintain a well-equipped kitchen that meets all safety codes.
Thrifty Foods is changing the way they operate the program beginning June 15, 2021. After that date your current Smile Card will no longer be able to be used to raise funds for the church. We would encourage you to continue to use it until then to maximize the funds we will be able to raise under the current program.
The new program will no longer allow participants to load up their own card, but instead we would need to purchase cards with pre-loaded amounts and then resell them to the congregation. This is not something that we feel that we will be able to manage, so it is with regret that the Fellowship Group will no longer be participating in the Smile Card program as of June 15. Please continue to use your current card until then and thank you again for your support.