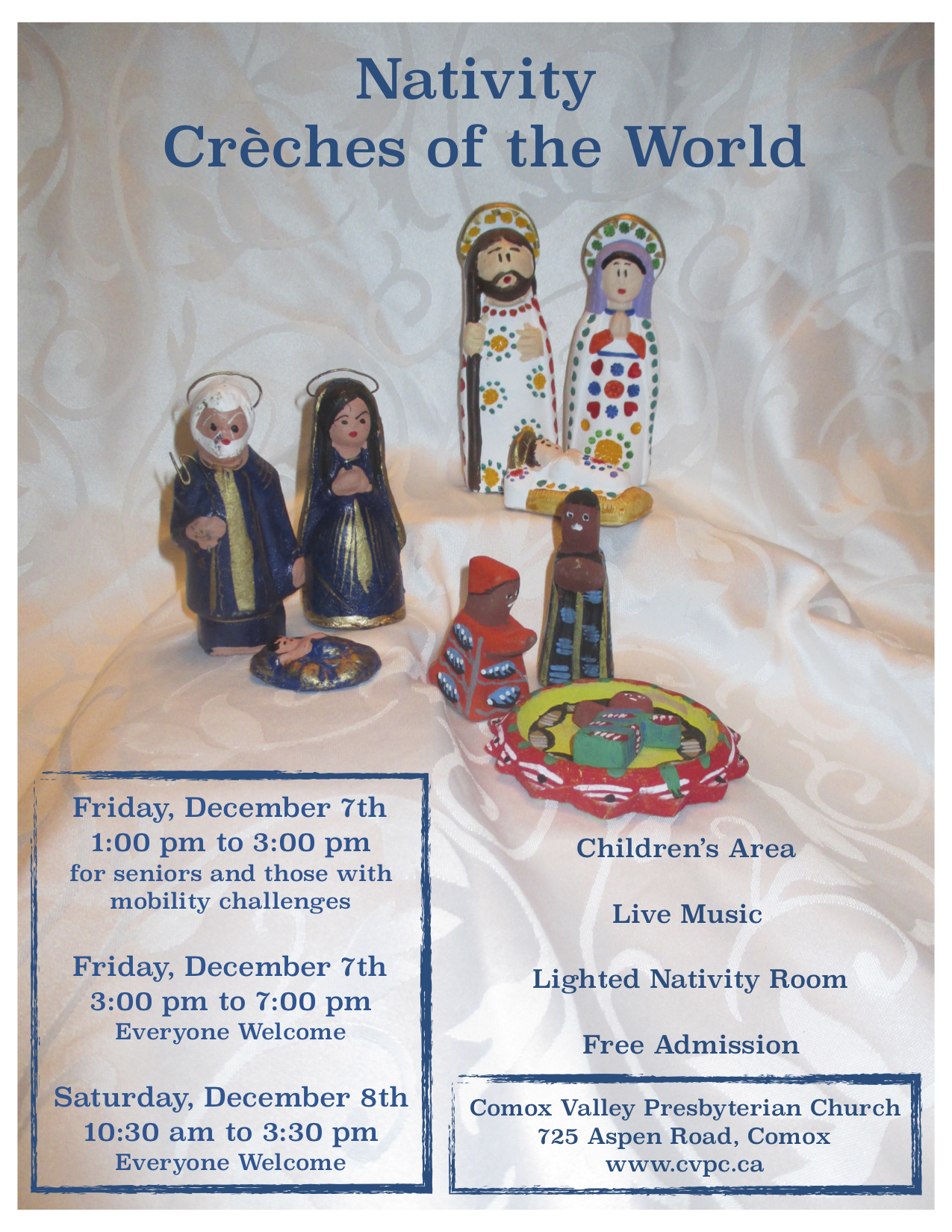 What is it?
Formerly known as the "Joy to the World!" event, Nativity Creches of the World is a display of nativity sets from around the world, created by artists to tell the story of Christmas. Our congregation hosted a display of over 200 sets last year that was attended by more than 500 visitors.
This display is accompanied by musical presentations and a children's activity area.
Why are we doing this?
This is our congregation's gift to the community of the Comox Valley, telling our visitors the story of Christmas in a gentle and beautiful way. It invites people into our church and provides spiritual nurturing, hospitality, and a place to worship.
It also encourages interdenominational cooperation, as people from around the valley lend their sets and their musical gifts to the event. They also help publicize it in their church bulletins.
The Details
This year, Nativity Creches of the World will be on:
Friday Dec. 7 @ 1 pm – 3 pm for seniors and those with mobility issues
Friday Dec. 7 @ 3 pm – 7 pm for the general public
Saturday Dec. 8 @ 10:30 am – 3:30 pm for the general public
How is the congregation involved?
This event relies heavily on community participation. Here's what you can do:
∙ Lend us your nativity sets. At a minimum, your set will show Mary, Joseph, and the Holy Child. For more information register online, download the Nativity set Registration form or pick up a form at the church. You may also fill out the form below to be contacted by one of the organizers.
If you know someone who has a special set that would enhance our event, ask if we can borrow it for the weekend. Sets are dropped off the week before the display, and returned the Sunday after. We have a no-touch policy, and experience has shown that visitors are very respectful of these displays.
Last year, many visitors were really interested in the stories that you told about your set. No set is too old, too simple, too small, or too worn, especially if they have a story attached.
If you lent a set last year, it is already registered; just contact Al to let him know you're willing to lend it again.
∙ If you have musical gifts, offer to fill a half hour slot with your talents. Many of our visitors last year look the time to just sit and listen to the music. Live performances are very special.
∙ Spread the word. Talk about this event to others, and invite friends and neighbours to come. Offer to put up posters in public places, and if you are part of an organization that has newsletters, send information to the editor for inclusion.
∙ Volunteer on the weekend of the event. We will need many people to fill a variety of roles: greeters, monitors (people who circulate around the room, assisting visitors as needed), helpers in the children's room, refreshment hostesses. The hospitality we show to our visitors is so important. We'll also need folks to put up and take down tables and to unpack sets as well as pack them again afterwards. A volunteer sign-up sheet will be posted in a few weeks.
∙ and of course: come and enjoy!
For more information or to contact the organizers, please contact the church or use the form below.
Drop-off Schedule : Sunday December 2 at the morning service; Tuesday, Wednesday morning during office hours (9 to noon), December 4 or 5. Please not before December 2 as storage space for the sets is limited. Thursday noon for returning sets.
Pick-up Schedule: Saturday December 8, 5 to 6 PM (Please do not pick up before 5 PM). If you are lending more than 5 sets, please come at 3:30 PM to repack your own sets and take them home with you.) Sunday December 9, after the morning service Tuesday or Wednesday, December 11 or 12, 9 AM to noon.