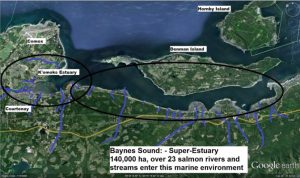 Dan Bowen, the Technical Director of Project Watershed, came to speak to us about the past, present and future work of this group in the Comox Valley.
We saw a video and Dan gave a short talk.  The full-length slide presentation can be found here.
Our Lenten project is to support Project Watershed, who are helping to re-establish some of the natural balance in and around our valley.
We are asked to be mindful of the water we use at home.
To help remember, use one of the containers provided and drop in a coin every time you open the tap in your home.
You may also write 'Lenten Project' or 'Project Watershed' on your offering envelope.
Thank you from the church, Project Watershed, the Komoks Estuary, and all of creation!