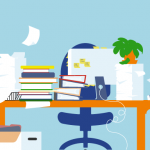 Message from the Minister's Messy Desk
Today begins the season of Lent. This is a time of reflection, prayer and repentance.
Everyone is encouraged to watch our Ash Wednesday Meditation which explains a little more about the history and reason for Lent and will help us begin this year's journey to the cross.
You can watch the service here:
The service for Feb. 21st has been pre-recorded and will be posted to our YouTube channel at the end of the week
Feb. 28th and March 7th will be live services either over YouTube or Zoom. Please keep any eye out for further information in upcoming newsletters.
We will celebrate the sacrament of communion during the service on March 7th. To participate you will have to provide your own juice and bread.
Please consider subscribing to our YouTube Channel so that we can have our own custom web address.
LENTEN BIBLE STUDY:
You are also invited to participate in a Lenten Bible Study entitled, "Pray Like This…" a study on the Lord's Prayer. It begins this Thursday at 7pm. The first week's handout has also been attached to this email. The study will take place over Zoom and you can join by clicking the link or by phoning in using the information below:
Join Zoom Meeting
https://us02web.zoom.us/j/83838950998?pwd=YXhmR2h2c2k1VU1RT1dpNnhZUlpHUT09
 phone:1 778 907 2071 Canada
Meeting ID: 838 3895 0998
Passcode: 681159
LENTEN PROJECT:
The Mission Committee has chosen to continue to support the Comox Valley Head Injury Society and the Mt. Washington Ski Patrol for our lenten project this year.  You can donate to the lenten project through your envelopes by marking it on the "other" line or through our canadahelps webpage which you can access by clicking the "Donate Now" button on our website.
OTHER ANNOUNCEMENTS
The AGM will be on Sunday March 21st at 1pm over Zoom. Everyone is encouraged to attend! This year it will include both the annual report and the budget.
Committee Chairs and Group Coordinators should have received a notice regarding the Annual Report. Please contact Jenn if you did not receive the notice. Reports are not required this year but are welcome. Deadline is Feb 19th.
A reminder that any email claiming to be from Rev. Jenn that is not using her actual email address or is requesting a favour, money or gift cards is a scam. Do not engage with the sender.