The Comox Valley Photographic Society has again produced a beautiful short video of our display. They have graciously allowed us to put it on our youtube channel, which you can view at this link.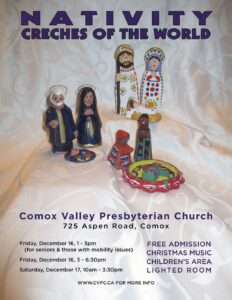 Comox Valley Presbyterian Church is happy to announce that the Nativity Display "Creches of the World" will be held this year on Dec 16 and 17.
In the past years you have lent us sets to display. We thank you very much for your participation in this gift to the community. Without you, it wouldn't happen. We hope you will once again add to the event by lending us your nativity set(s).
Sets can be brought to the church during office hours (9AM to noon) Tuesday, or Wednesday, December 13 or 14 or after the service on the 11th. We will not accept any sets, even if they have been previously lent to us, after the 14th.
Please remember to package them securely (boxes rather than bags, if possible) and well-marked with your name(and number if the set was previously displayed).
If the set has been loaned before it will have a number (on the box and/or on the bottom of the manger). If you are not sure anymore what the number is, bring it in and we'll try to find you in our records. If they are small sets, you can package them together in one box but please note all the assigned numbers of the sets on the outside of the box.
For sets not previously displayed, please complete a registration form (at this link) – one for each set please. Please read the registration form carefully. If possible, please include extra information about the set, particularly where it was acquired, country of origin if known, and a history of how you came to get the set and what special significance it has for you. Our visitors have often commented on how interesting the stories are and how these stories contribute to the overall interest.
Sets can be picked up after the display(4:30PM to 6PM) on the 17th. If you have a number of sets on display, especially if you have lent us 5 or more sets, we would very much like you to help repackage them on Dec. 17, arriving between 4 and 4:30, and take them home with you since we have limited storage space. For those not able to help re-package their sets, you can pick them at the church during office hours the following week (Tuesday or Wednesday from 9AM to noon) or after our church service on the 18th. If you have any difficulty getting the sets to the church, please e-mail me and we'll try to arrange pick-up and return.
Feel free to forward this note to anyone else who might be willing to lend us a set. If you have any questions please contact the office or use the form below: